Multiplication Chart 1-50 is the chart that is comprised of multiplication tables ranging from 1 to 50. This kind of multiplication chart is very significant and relevant for all those elementary and upper-level students, who want to learn multiplication tables.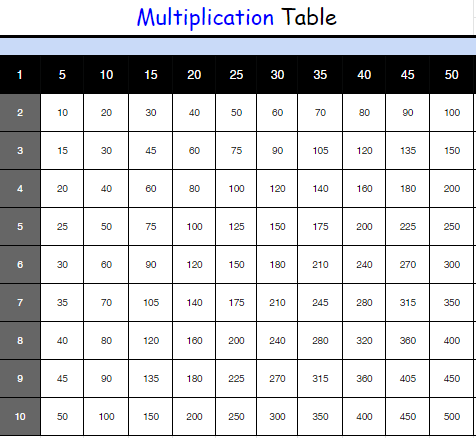 So, if you are one of those students who want to have a solid understanding of multiplication tables, then you should probably have access of one such chart.
Here in this article, we are providing the various types of multiplication chart for all table learners.
Printable Multiplication Chart 1-50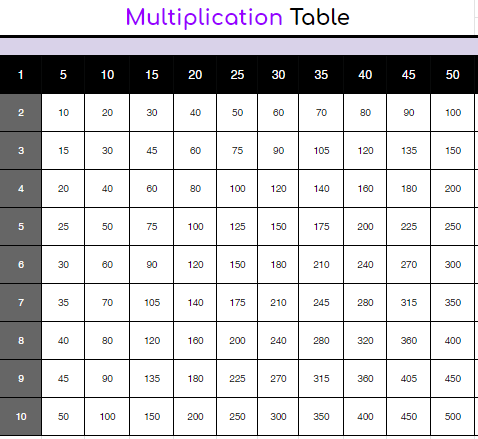 Well, as we all know that how much printable multiplication charts are in demands these days, as they are easily available and provide systematic learning of tables to the students.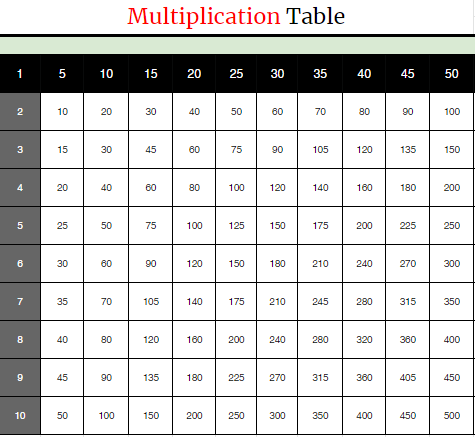 We are here having the colorful and attractive printable multiplication chart  which are comprising the tables till 50 to provide one spot learning of tables to all the scholars.
The chart is readily usable for all types of students both in the school and home table learning.
Blank Multiplication Table 1-50 for Kids
Kids are the eager learners of multiplication tables and they generally prefer the freedom of learning in their own way, therefore they often seek blank multiplication table charts.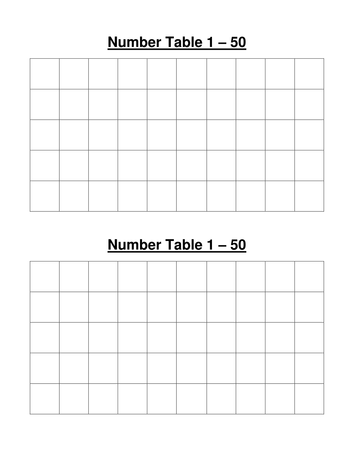 As the name suggests this chart is fully blank. It means kids can draft or design the chart as per their preference. They can simply use this chart as their practice sheet to write multiplication tables over it and share it with their teachers to get the performance evaluation feedback.
Times Table 1-50 Multiplication Chart PDF
Well, as we know that kids often find it hard to learn or memorize all the tables at once. Since it is a matter of time to learn these tables and keep in mind for long.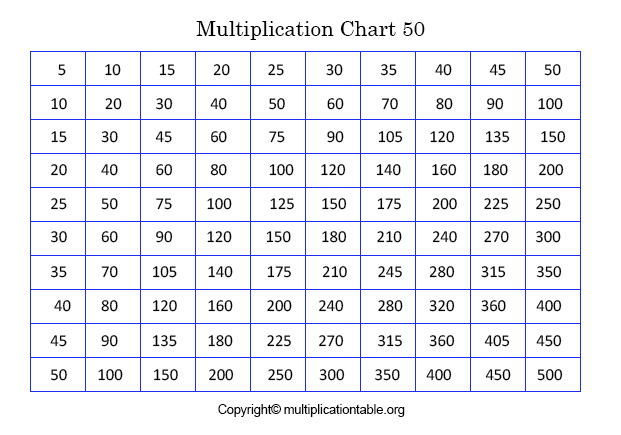 Keeping this learning scenario in our consideration we have designed a 1-50 multiplication chart in the time table format, which can be referred by the kids as their daily learning chart.
Once the kids start referring to this chart on a daily basis. Then it will develop an easy and stable understanding of these multiplication tables to them without feeling any learning pressure.
Multiplication Table 1-50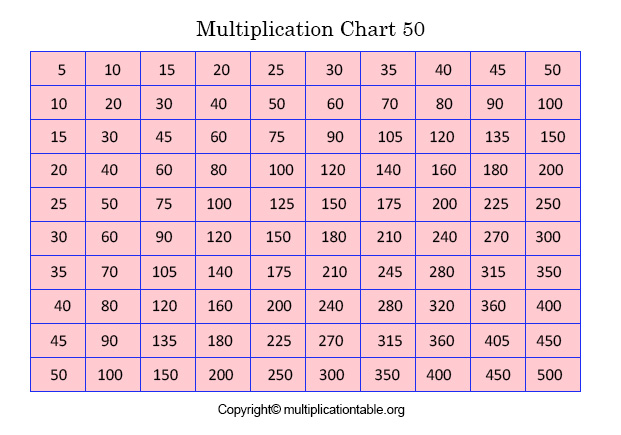 You can gift this time table of multiplication table to your kids or school mates. They can also make the most of it.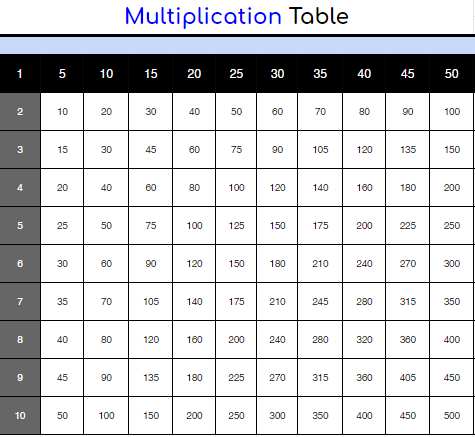 Multiplication Chart 1-50 Worksheet
The best way of practicing or solving the exercises of the multiplication table is by solving these tables through the worksheet.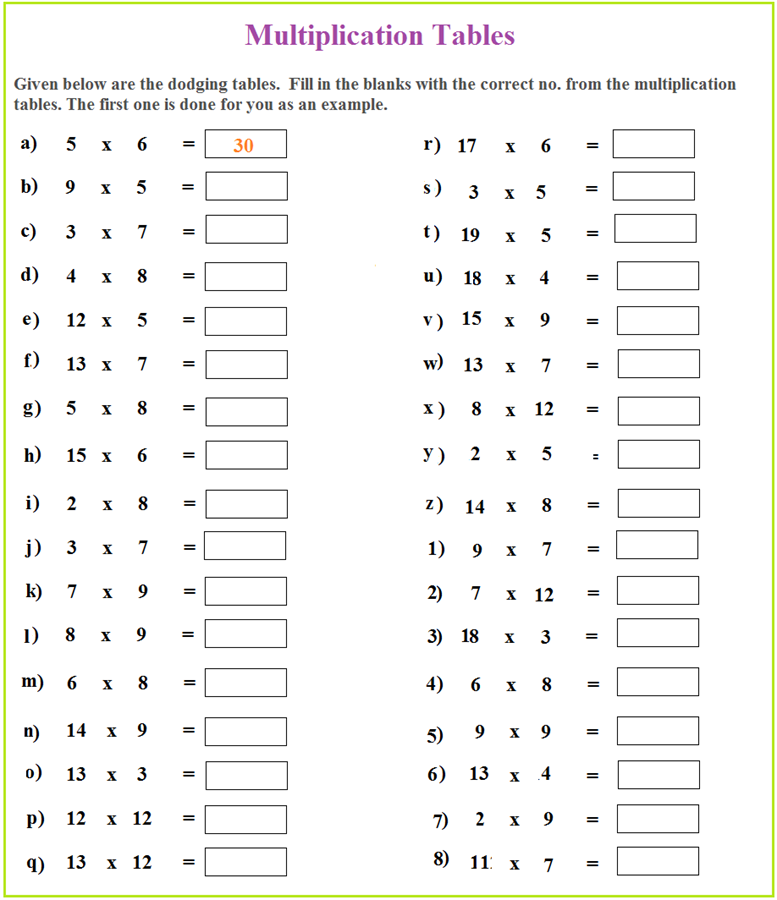 We are having a decent collection of multiplication worksheets for all those kids and adult learners, who want to test their knowledge of any table ranging from 1 to 50.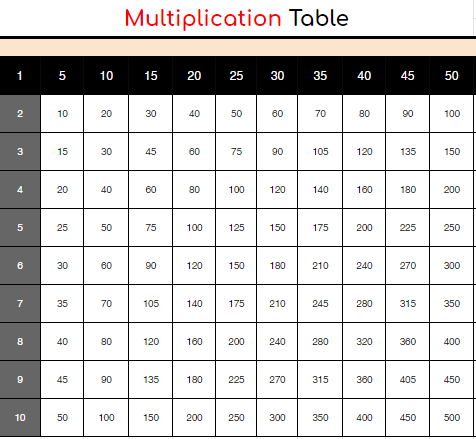 In this worksheet, students can basically find the several kinds of multiplication exercises between the two and more sums, which will check their knowledge of multiplication tables.